Northern
November 16, 2018
Japan has many 'power spots'. A power spot is a sacred space that is significant in Japanese mythology or has great natural beauty. For day two of our Miyazaki trip, we headed to Takachiho, a small town nestled in the mountains of northern Miyazaki, which is home to perhaps one of the most famous power spots in Miyazaki, Takachiho Gorge.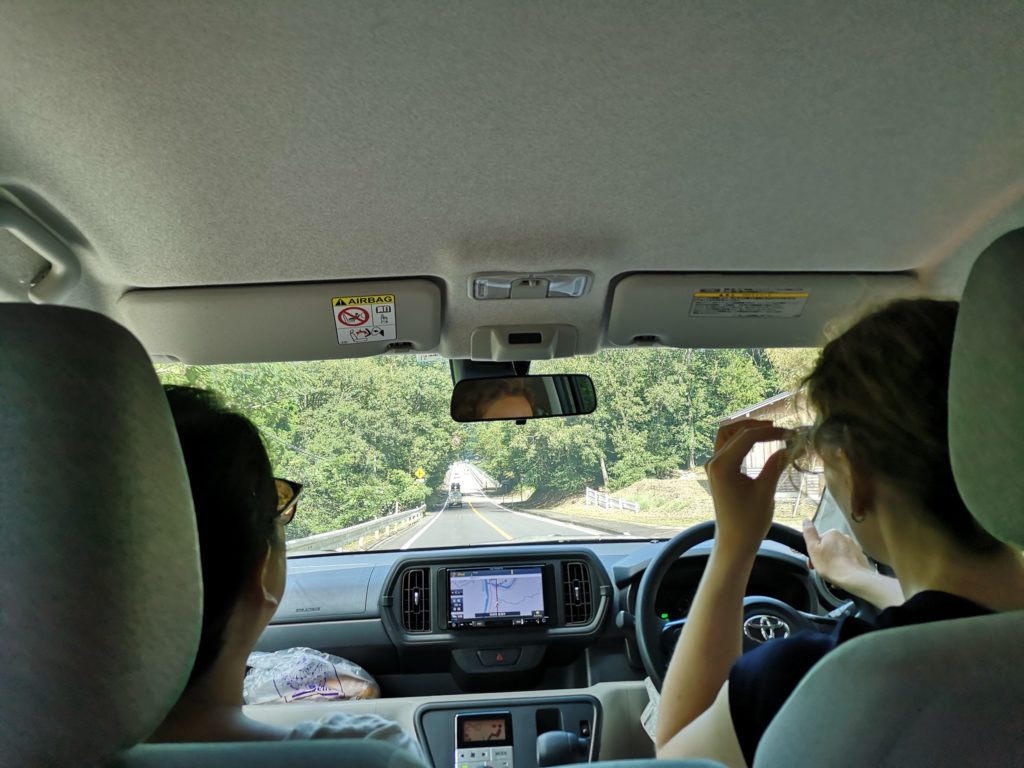 We woke up early to catch the train to Miyazaki station where we were to pick up a rental car. Any sign of the typhoon had vanished, with bright blue skies stretching out above us. Takachiho is located approximately two hours drive from Miyazaki city. It is accessible via bus, however, we decided that renting a car would give us a lot more freedom to explore the sights at our own pace. Takachiho really has a lot to offer, and if you intend to take the bus, I would suggest that you need more than a day to see all the sights.
We arrived in Takachiho at around 10:30 am. If you ask any Japanese person (who is not from Miyazaki or Kyushu) what they know about Miyazaki, they will probably answer Miyazaki-gyu (beef), shochu (alcohol made from potatoes) and Takachiho. Takachiho is well known throughout Japan not only because of its stunning beauty, but also because it is a significant place in Japanese mythology. In Japanese mythology, Takachiho is said to be where Ninigi, the grandson of the sun goddess Amaterasu, came down to earth. It is also said that Amaterasu herself hid in a cave in Takachiho until she was lured out by Amenouzume.
We decided to start our journey with the most famous spot first, Takachiho Gorge. This was possibly my fourth or fifth time to visit the magnificent gorge, but it is not the type of place that I would ever get tired of visiting. Surrounded by cascading waterfalls and lush greenery, one cannot help but feel that this place does indeed have some kind of power.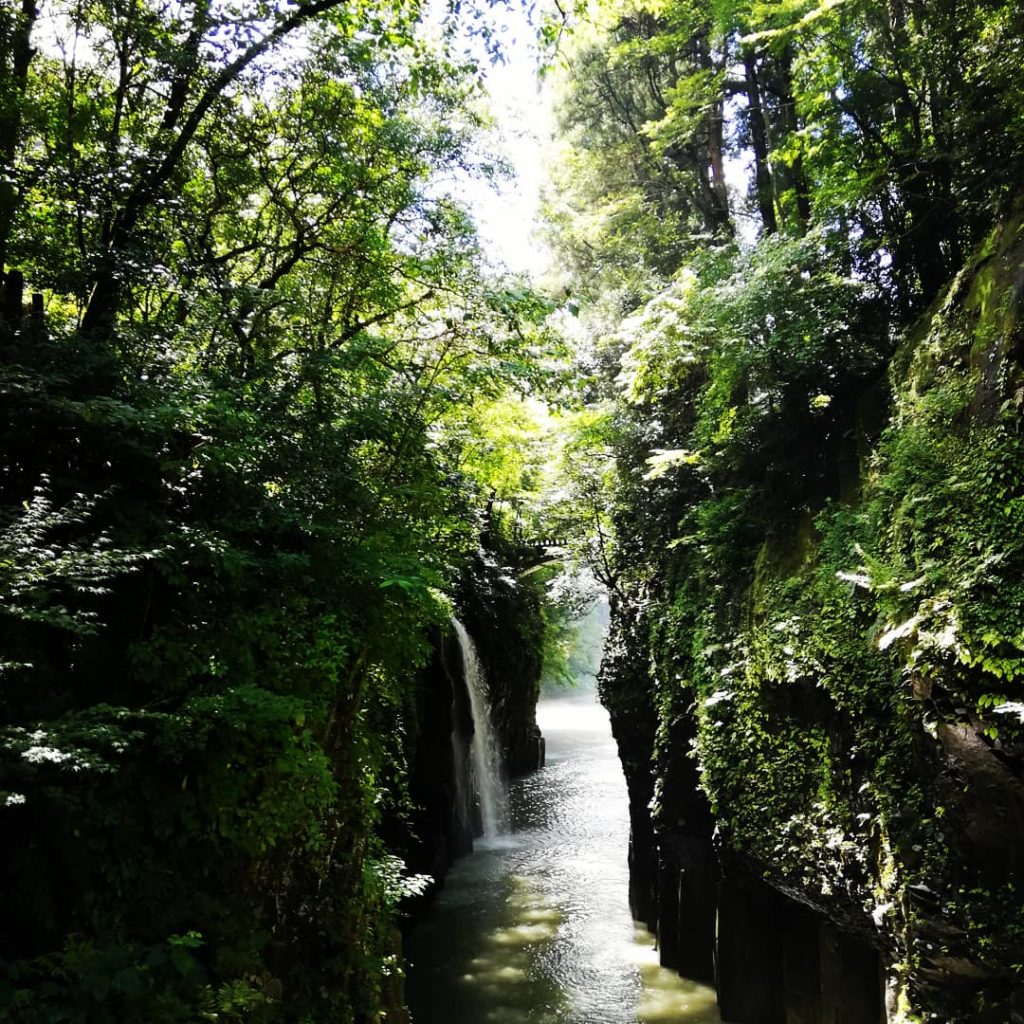 Even though the weather was fine, the rainfall from the previous days had made the river current too strong to enjoy one of the most popular activities at Takachiho Gorge, renting a rowboat and paddling under the waterfall. Instead we took our time walking along the river, soaking in the environment around us, until our stomachs told us that it was time for lunch.
If you want to eat at the gorge, I would recommend the somen noodles and grilled river fish, however, since we had the car, I had something else in mind for our lunch. About 5 minutes drive from the gorge is a yakiniku restaurant called Hatsuei which serves mouthwatering Takachiho Beef at a very reasonable price. The restaurant is very popular with the locals, as such you may have to wait to get a table. We waited about half an hour to get in, but it was well worth it!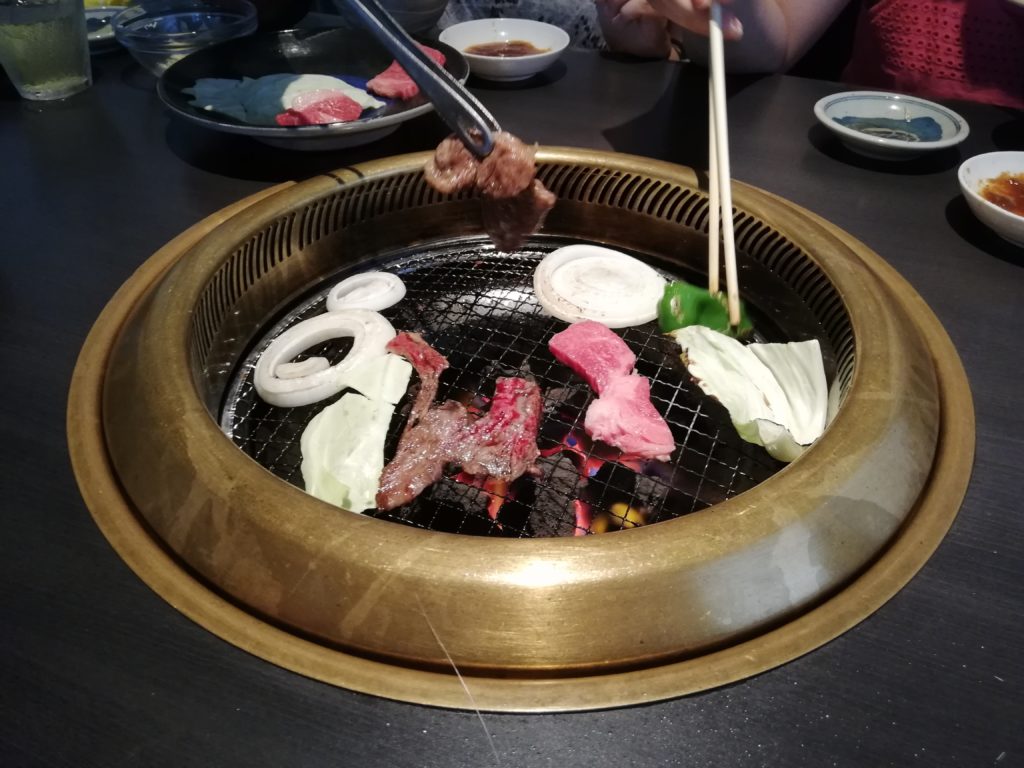 After lunch we drove around the corner to our next destination, the Takachiho Amaterasu Railway. There used to be a train that connected Nobeoka City and Takachiho, however, the railway was damaged in a typhoon many years ago. These days there is a 'super cart' attraction that leaves from Takachiho station and runs along the old train tracks. The ride is a  30 minute round-trip that offers a guided tour and breathtaking views of Takachiho. The super cart leaves every 40 minutes. When we arrived, the next train was sold out already so we had to wait almost an hour. It wasn't quite enough time to go an do something else, so we decided to enjoy a beverage and ice cream at the cafe while we waited.
https://www.amaterasu-railway.jp/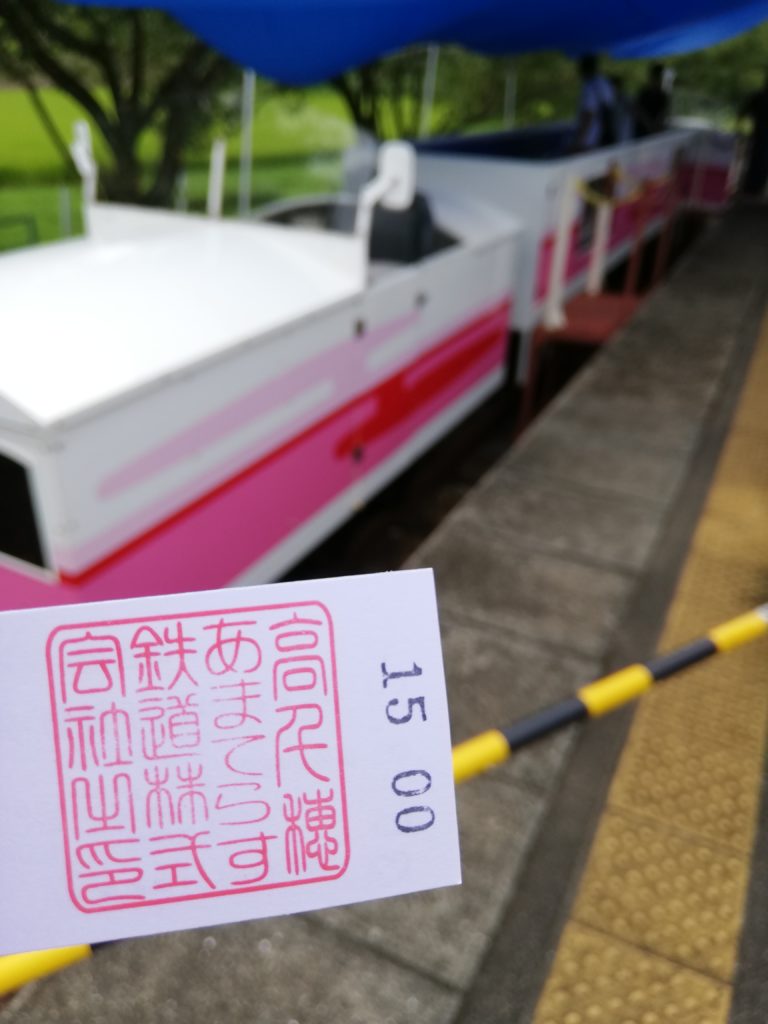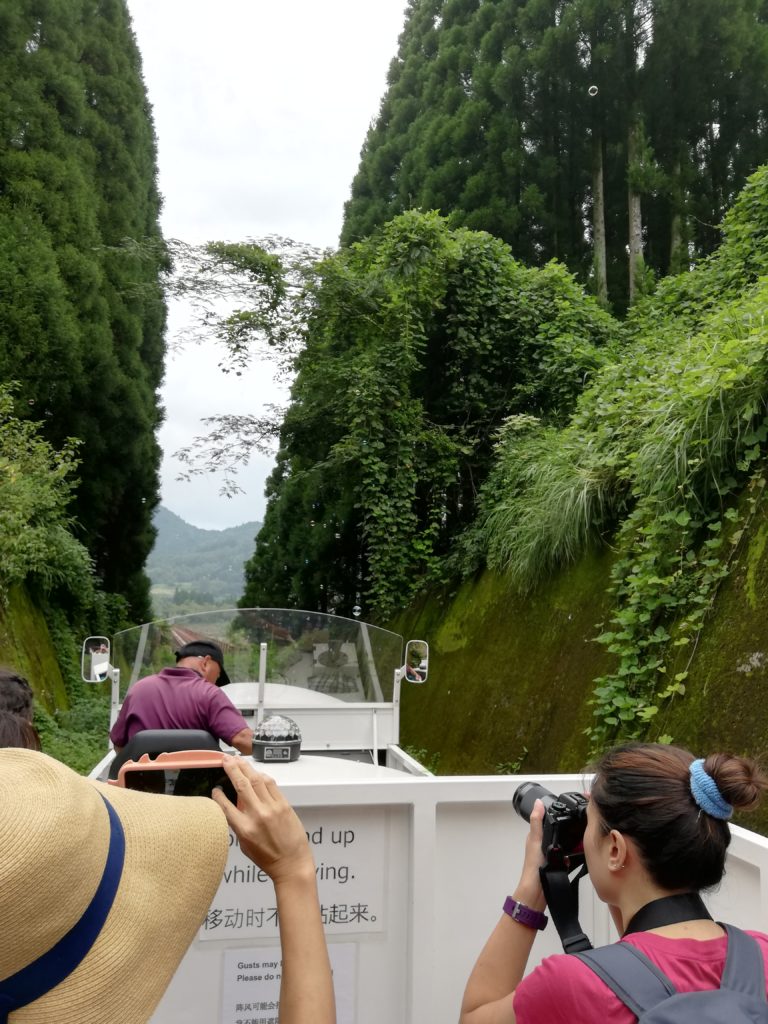 The last stop on our Takachiho journey was Amanoiwato Shrine. The shrine is beautiful, but the real attraction is the cave where Amaterasu hid which is a short walk from Amanoiwato Shrine. The walk down to the cave follows the river and sets the scene for this mysterious spot. Around the cave many people stack rocks for good luck.
If we had more time, I would have opted to stay overnight in Takachiho so that we could watch Kagura dance which is performed daily at Takachiho Shrine from 8pm-9pm. Since we were on a tight schedule, we had to say goodbye to the mountains and this powerful town.
We still had a few hours of daylight left, so we decided to make a slight detour on the way back to Miyazaki to stop at two more of my favourite spots in Northern Miyazaki. Located only 10 minutes apart by car, Umagase and the Sea-cruz (kurusu no umi) in Hyuga City are two more power spots that cannot be missed. Contrary to Takachiho which draws its power from the greenery of the mountains and rich mythology, these two spots offer the power of breathtaking views of the ocean.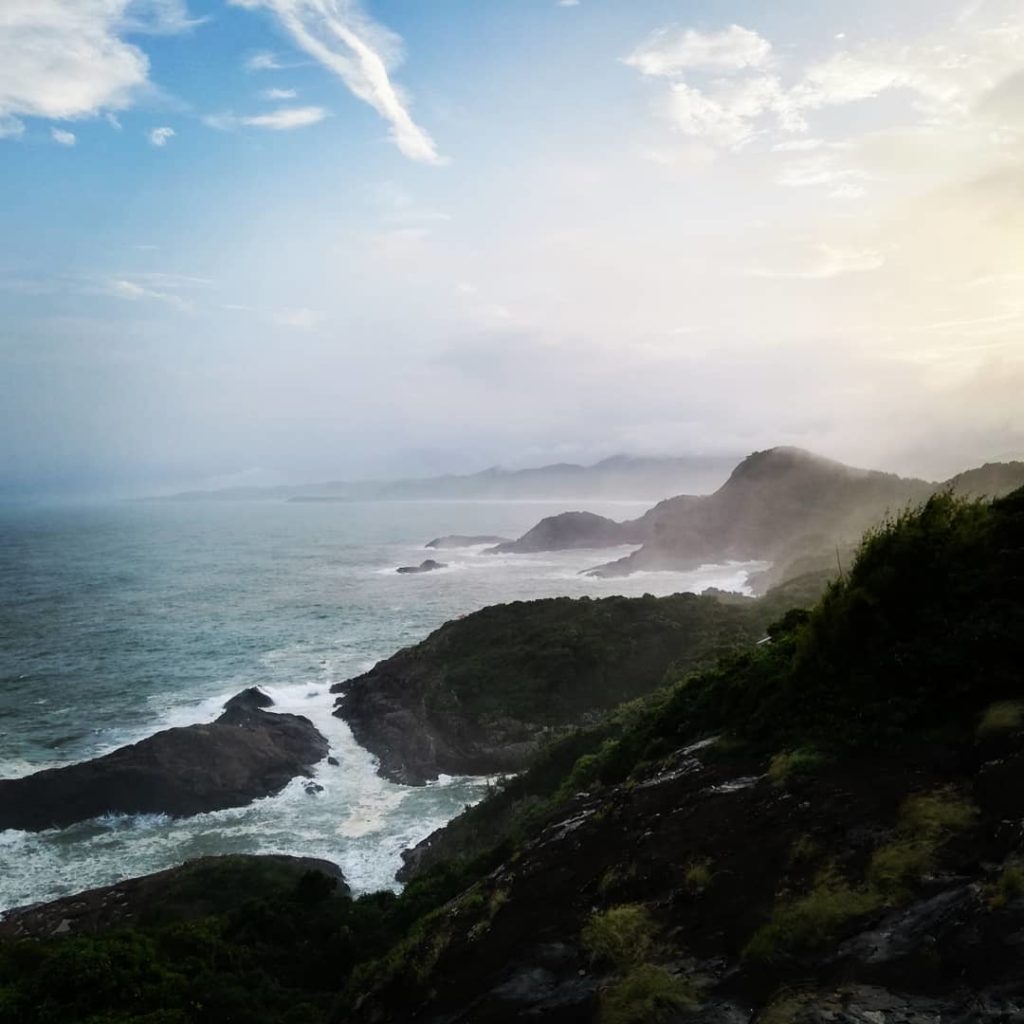 At Umagase, you can walk out onto a peninsula that offers an almost 360 degree view of the ocean. The Sea-cruz also offers stunning views of the ocean, plus it is said that your wishes will come true if you visit here. The reason for this is that the rocks are in the shape of the Japanese character 「叶」which means 'to grant' or 'to come true'. We arrived at these two locations just after 5pm, and they were both deserted. The waves were still large in the aftermath of the typhoon, crashing against the cliff face, shrouding the entire area in a fine sea mist. Having the entire place to ourselves definitely made it all the more special.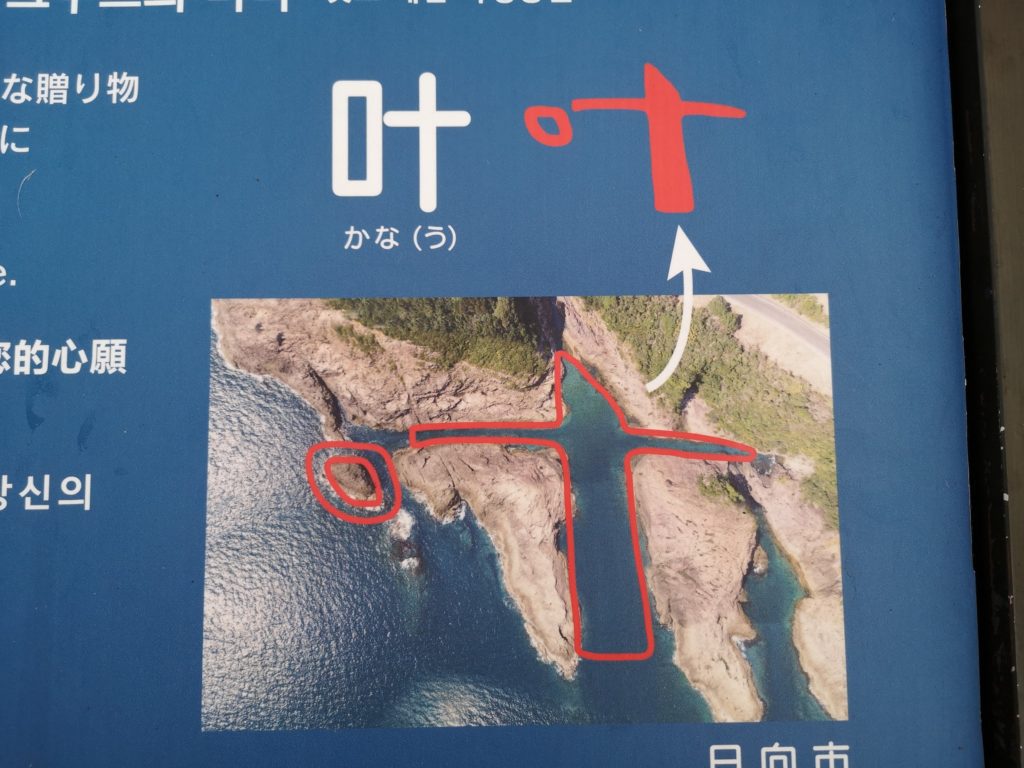 We drove back to Miyazaki City, feeling super-charged from all the power spots, but exhausted from a long day. In hindsight, trying to fit Hyuga and Takachiho into one trip was probably a little too ambitious, but I was glad that my colleagues got to experience both of these incredible towns. I hope that they will have the opportunity to visit again in the future and take their time to explore each place more leisurely.
*Notes for catching the Train:
If you are catching the train in Miyazaki from a smaller unmanned station such as Aoshima, you will not be able to pay for the fare using a IC card, so make sure to prepare cash. Take a ticket when you get on the train and pay when you get off.
There is usually only one train per hour, if that, so be sure to plan your trip ahead of time, otherwise you may lose a lot of time just waiting at train stations.
You can look up the train times using google maps, or another Japanese navigation/train app. Most hotels or hostels will also provide a train/bus timetable upon request.