Nestled in the Kyushu Mountains in the north-west of the prefecture, Takachiho Gorge is one of Miyazaki's best kept secrets. The v-shaped ravine, carved out by lava flow from the nearby Mount Aso volcano, forms part of Takachiho Town where it is believed the gods descended to earth. The area attracts thousands of visitors who come to marvel at its ethereal beauty, traditional shrines and the 17-m (56-ft) high Manai-no-Taki.
You can experience this waterfall up close by rowing yourself through the gorge. Canoes can be rented from the Takachiho Tourist Association for a leisurely boat ride that takes approximately 30 minutes.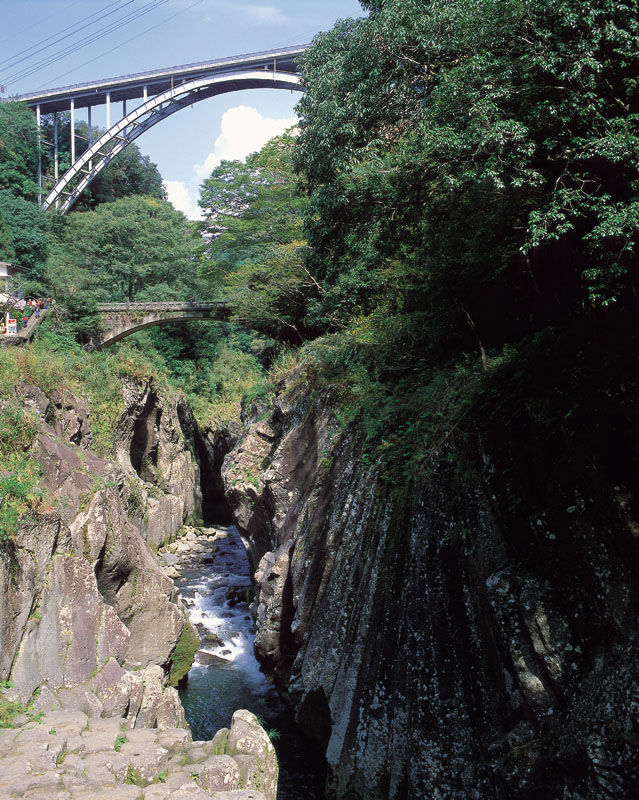 Although the wait for a canoe can be several hours long during peak times, there is plenty to see and do to pass the time. A 1-km (0.62-mi) long walking trail runs alongside the gorge, decorated with different flowers from spring to summer, and illuminated at night from mid-July to early September. The trailhead offers a unique view of the Ishibashi, Takachiho and Shinto-Takachiho bridges which, from this angle, appear to be attached to one another.
At the end of the footpath is the Takachiho Gorge Aquarium which houses a collection of freshwater fish that inhabit the surrounding river system. Across from its entrance are several souvenir shops and a mochi (glutinous rice cake) vendor.
If food is indeed what you're after, be sure to sample the local somen at one of the two restaurants that serve the specialty. The long, thin wheat noodles are doused in boiling water and then placed in cold spring water – a cooking method native to Takachiho.
The dining experience is also unique; you'll be seated at a counter with a long bamboo trough. Pick up your noodles with your chopsticks from the trough, dip them into the spring onion and ginger broths, and enjoy! Any noodles you don't catch will be waiting for you in a woven basket at the bottom of the trough.