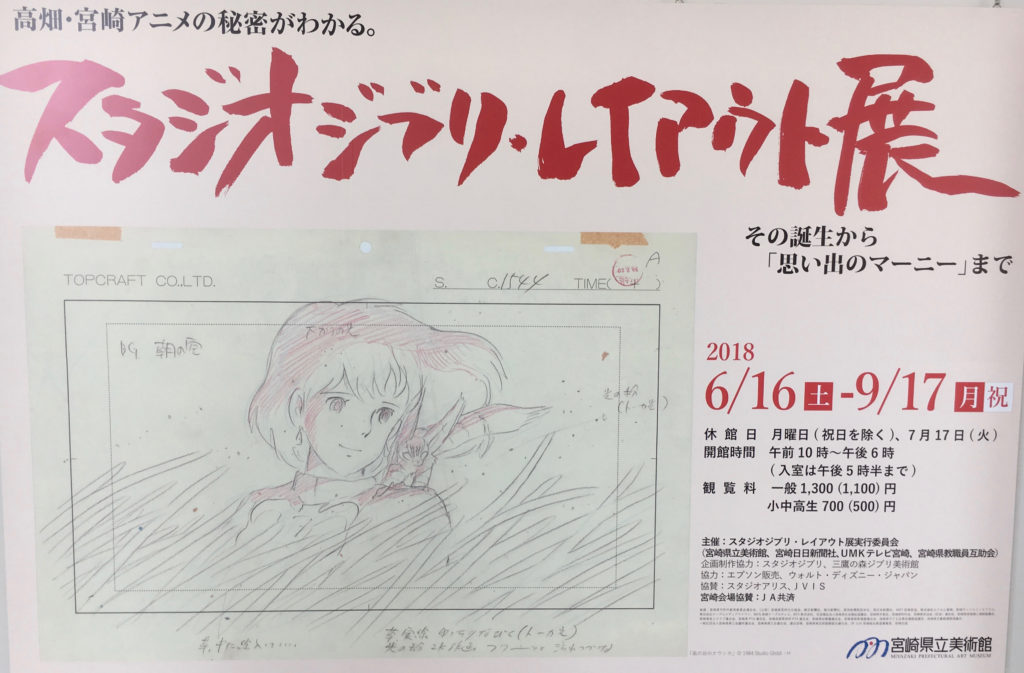 Almost everyone is familiar with the various works of Studio Ghibli and Hayao Miyazaki. From My Neighbor Totoro to Princess Mononoke to all the classics in-between, these movies are some of the most emotional and well-known animations ever made. For me, these movies represent a beautiful and nostalgic part of my childhood, as well as being one of the primary starting points of my interest in Japan. I was absolutely ecstatic when I learned that a Studio Ghibli Exhibit was coming to Miyazaki.
The exhibit is located the Miyazaki Prefectural Art Museum (Miyazaki-ken Bijutsukan) until September 17th of this year. It is a collection of thousands of pieces of the original concept art that was used in the films and various smaller series, many by Hayao Miyazaki himself. Upon entering the exhibit, there is a room full of the posters used for each different film where pictures are allowed. Past this point and into the main exhibit hall, photography is strictly prohibited as in most art museums.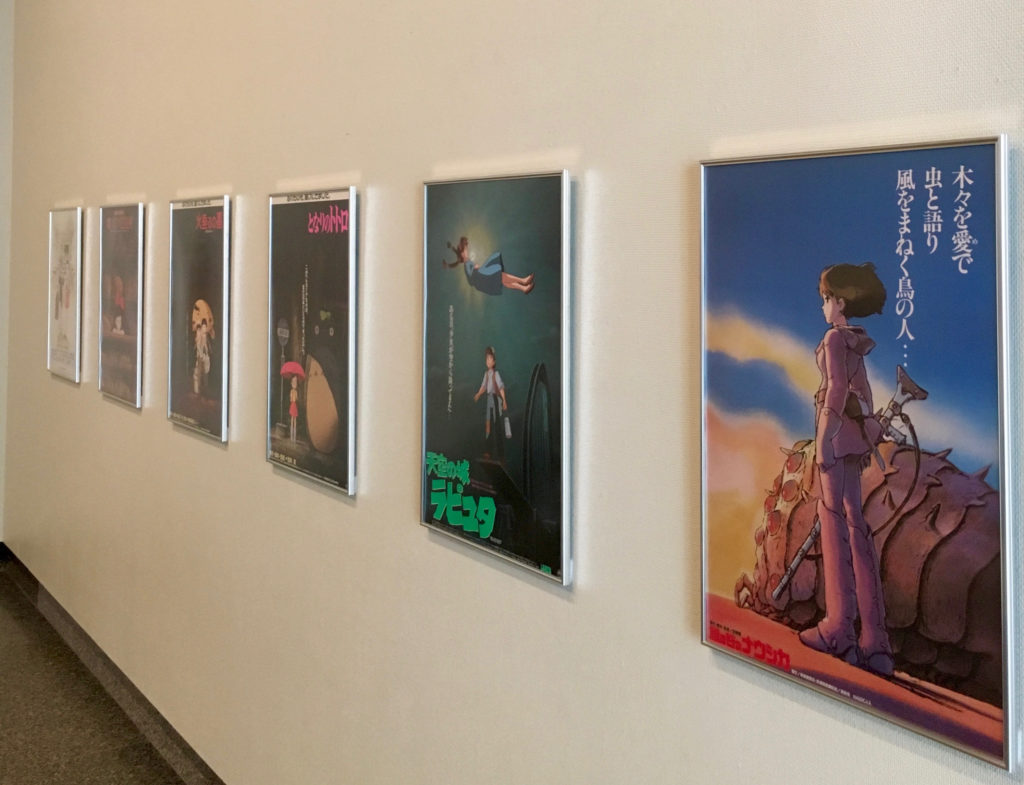 Much like watching the films, I truly felt like I was being absorbed into the many worlds created by Studio Ghibli. To see the artistry of the many pieces and layers involved in creating each scene gave me an even deeper understanding of the genius that goes into creating these films. It was almost as if I was getting a peek into the mind of Hayao Miyazaki himself. As I wandered through the exhibit I became more and more engaged in these fantasy worlds, seeming to lose track of time entirely for a portion of the day.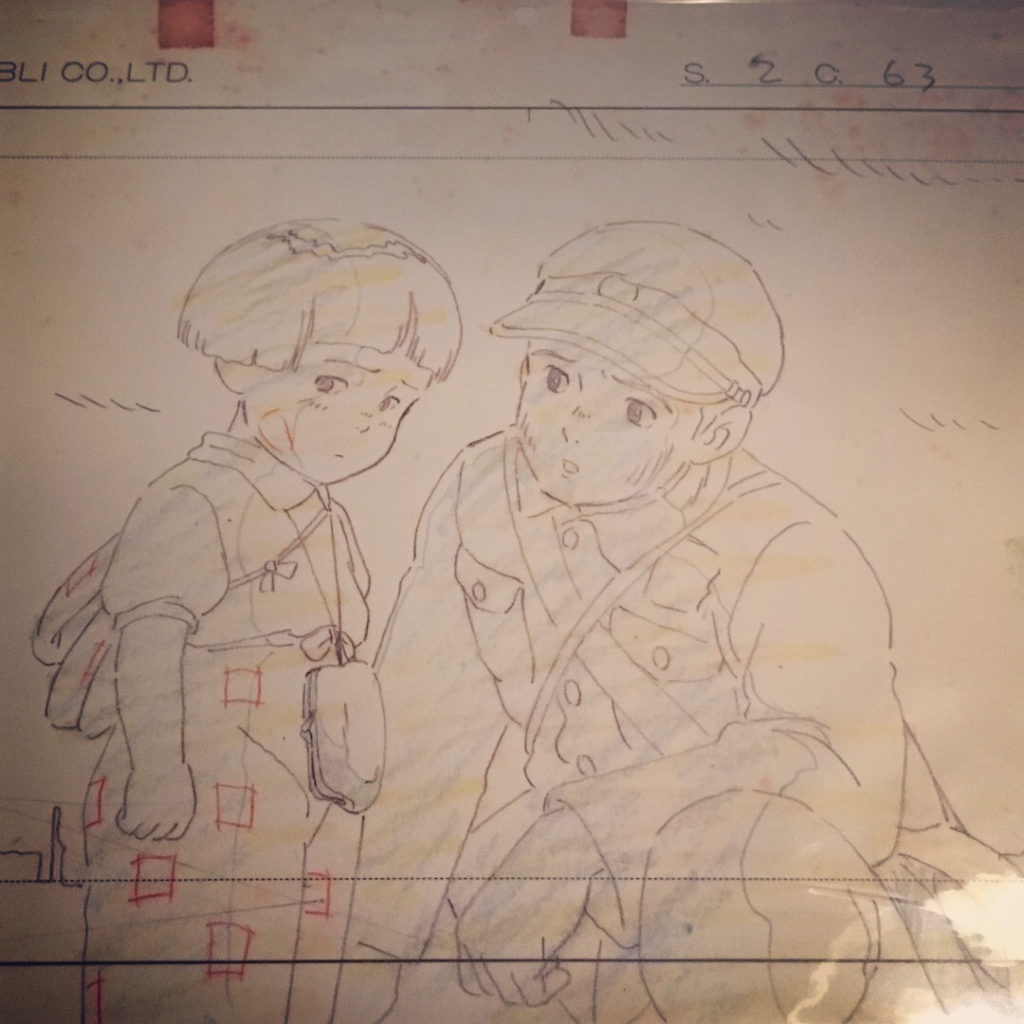 Aside from the main exhibit hall, there is a large wall where filled with the small black soot sprites known as "Susuwatari" in Ghibli films. You can draw a small sprite of your own on provided sticker paper and stick it on the wall at a place of your choosing. There is also a giant display of Totoro on the floor that can be laid on (remember to take off your shoes!). These were both very fun attractions for children, as well as perfect photo taking spot for all ages. Lastly, there is a store selling a multitude of different Ghibli merchandise, including some much-desired copies of the original concept art itself!
The Studio Ghibli Exhibit will be running until September 17, 2018. Whether visiting to please your children or to please the inner child within yourself, make sure to visit the Miyazaki Prefectural Art Museum during this rare opportunity.