Central
February 19, 2019
Our trip was coming to an end, but there was still so much to do and eat! Miyazaki really is a hidden gem. Once you get there, you discover more and more reasons to stay.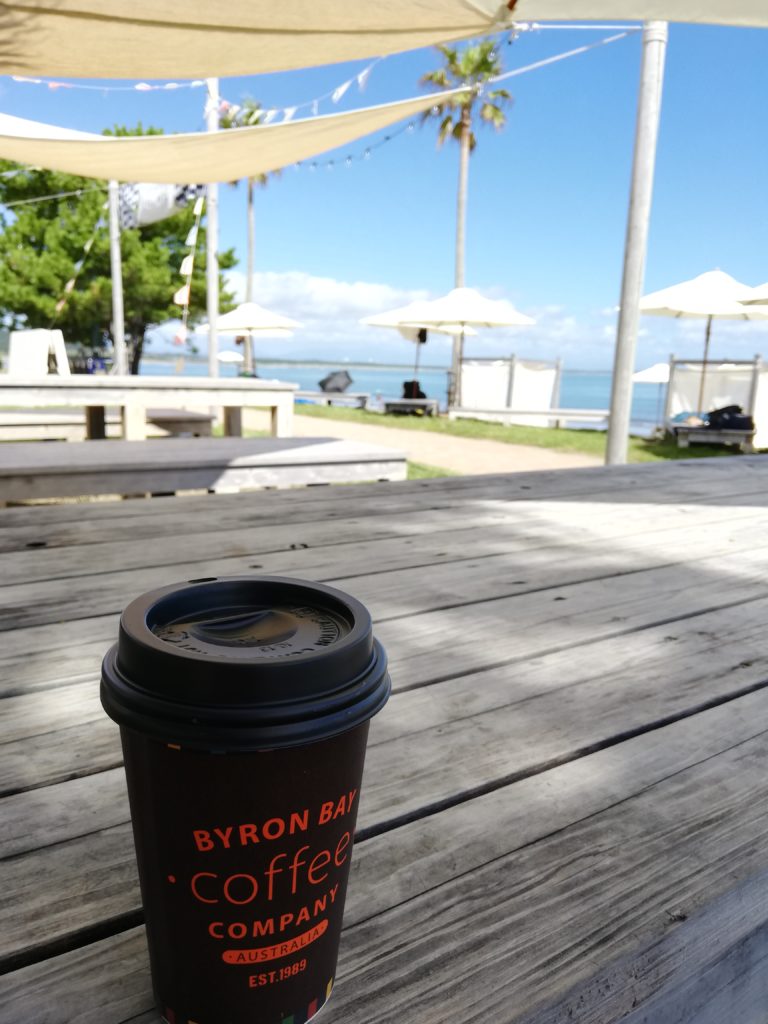 We started our fourth and final day with breakfast and coffee by the ocean at Aoshima Beach Park. We were going to need our strength for the morning activities, surfing! We had parted ways with three of our colleagues, who took a bus to Kumamoto earlier that morning to visit a friend. Only the two surfers were left!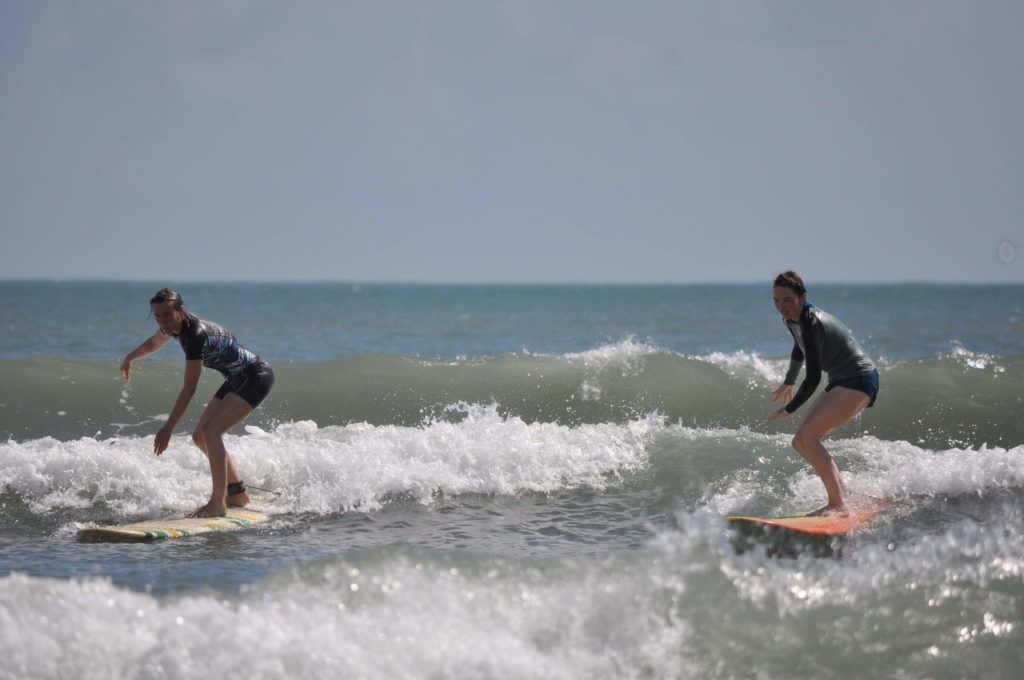 We asked two of my local friends to take us out for the morning. Usually we would head over to Kisaki beach, however, thanks to the typhoon earlier in the week, the waves were pumping at Aoshima. We couldn't have ordered more perfect weather or conditions. After warming up with a little beach yoga, we jumped right in. Compared to our usual stomping grounds in Chiba, Aoshima offered a much longer ride, with perfect longboard conditions. Heaven!
I left my colleague at the beach to continue surfing (she's a little more enthusiastic and fit than me) and I caught the bus into town to meet a friend for lunch. I simply couldn't leave Miyazaki without one more feast of Miyazaki Beef! Since it was the last day, it was time to splurge on the good stuff; teppanyaki at Miyachiku restaurant!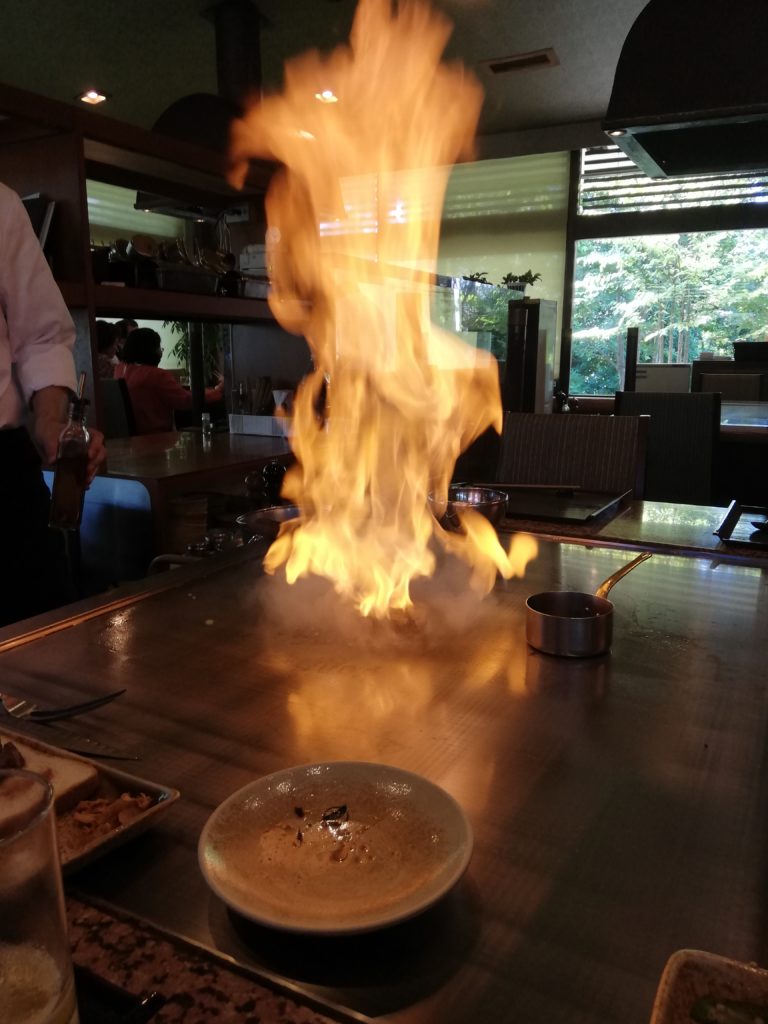 Miyachiku is perhaps one of the most famous Miyazaki Beef restaurants. The price is a little on the expensive side, but for top grade Miyazaki Beef cooked to perfection right in front of you, plus a salad and drink bar and various side dishes, it's worth it! Actually, I have a confession to make. Even though I lived in Miyazaki for five years, this was my first time to visit Miyachiku. After dining on some of the most delicious and tender Miyazaki beef I have ever eaten, I couldn't help but feel a slight regret at the missed opportunity. I guess I will just have to add this to the list of reasons to come back to Miyazaki for another visit.
Miyachiku is located a short walk from Aeon Mall, so we decided to take a stroll around the mall to walk off the full feeling a little. The mall has changed so much since I was last in town. I heard it is now the biggest mall in Kyushu! It was pretty convenient even when I lived here, but now, it has everything.
The time had come to make my way back. I jumped on a bus to Miyazaki station, then took the train to the airport. My colleague was there already. There was one more thing that we had to do before catching the plane back to reality; buy souvenirs for our office. It is customary in Japan to buy souvenirs for your colleagues if you take a trip somewhere. We walked around the souvenir shops, sampling various snacks and sweets trying to decide which ones would be the most popular. Our colleagues have a bit of a sweet tooth, so we settled on a box of mango brownies and hyuganatsu jellies.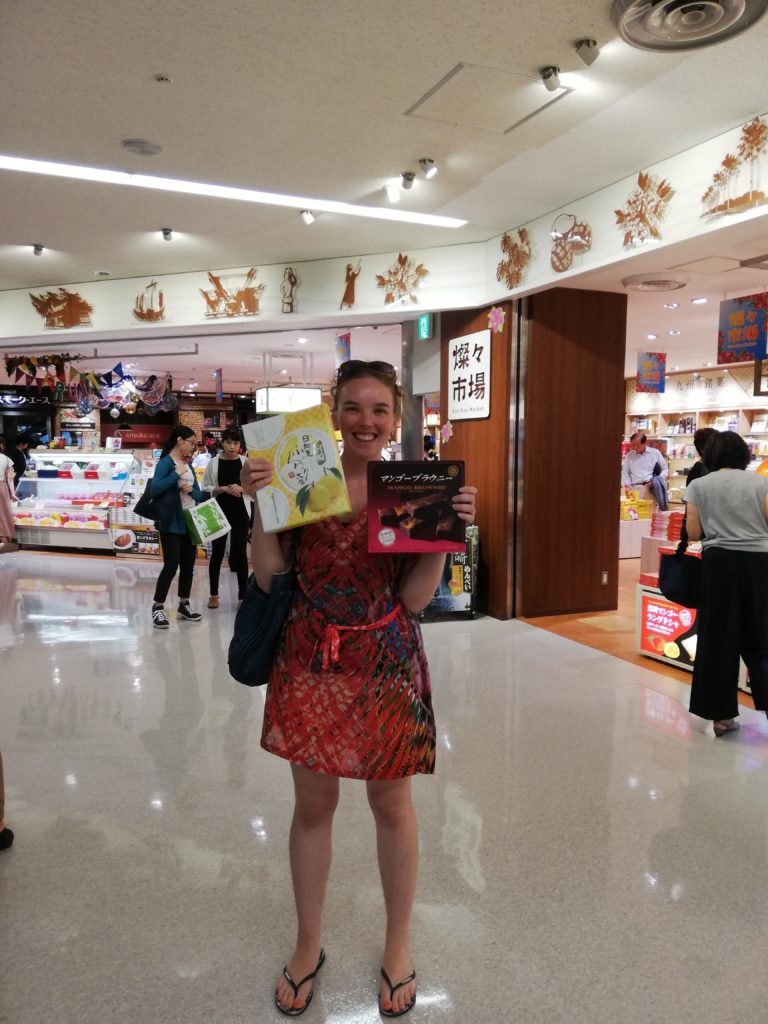 I couldn't resist picking out a few things for myself as well. Miyazaki grown hojicha (roasted green tea) and some smoked chicken. This smoked chicken is one of my favourite snacks. It goes great in a salad, or even with a cold beer. The sweets went over well with our colleagues as well.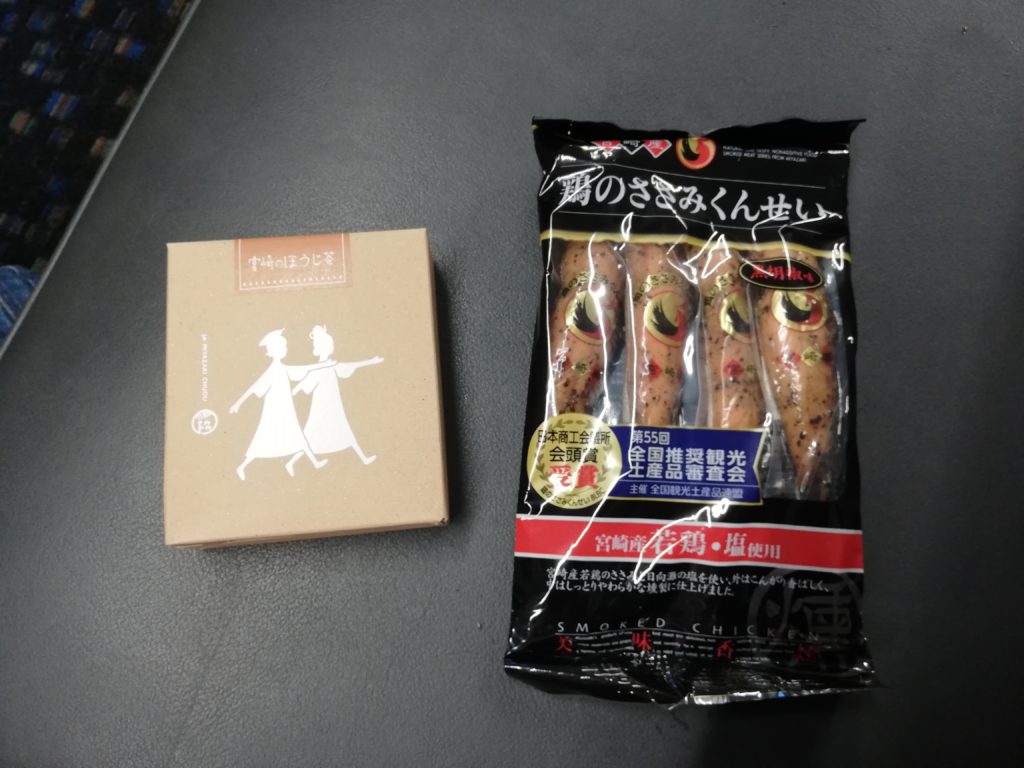 As we watched the sunset from the observation deck of the airport, we reflected on what a great trip it had been. We had seen, played, eaten, surfed, and swum for four solid days, but it felt like we had just scratched the surface of what Miyazaki has to offer. Couldn't we stay just a little longer?