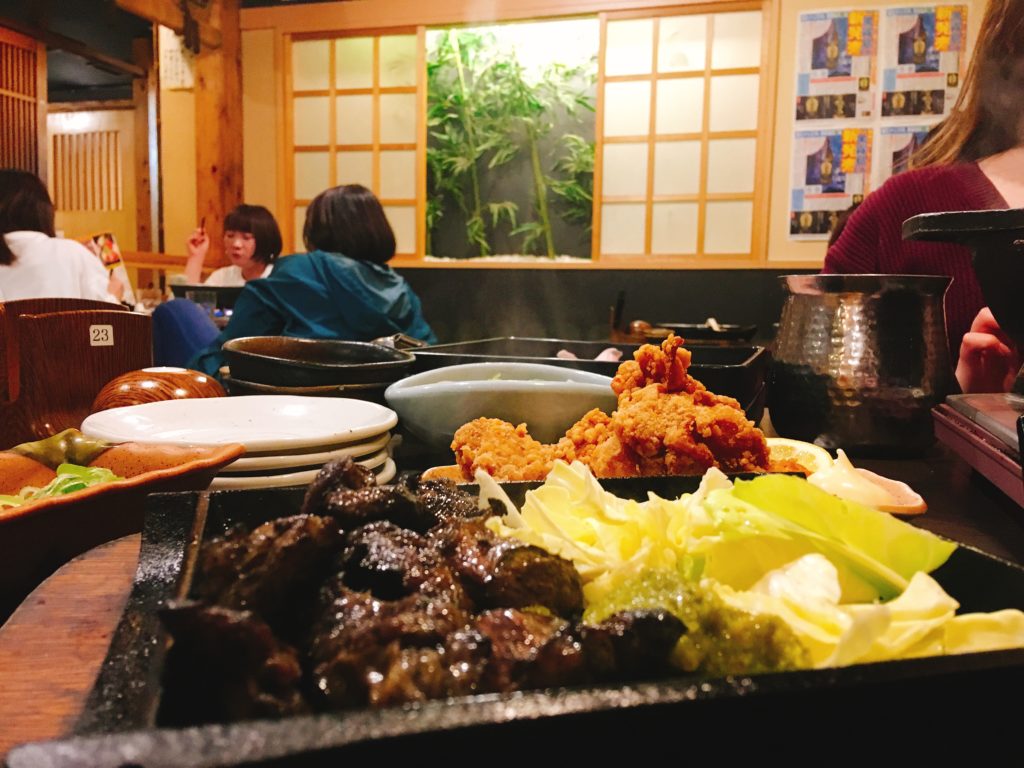 I bet that you have selected to read this article for the following reasons:
you are searching for a place where you can enjoy a lot of different varieties of small dishes that can be served quickly and easily split among a few people while drinking some beers or spirituous liquor? (there are also soft drink)
you want to realize one the most common and popular authentic Japanese food experience? I mean a real must try in a place where you will feel the Japanese ambiance?
And you don't want to ruin yourself either especially if you have a small budget?
So, if I may,
May I recommend you KUROKIYA(黒木屋) Izakaya?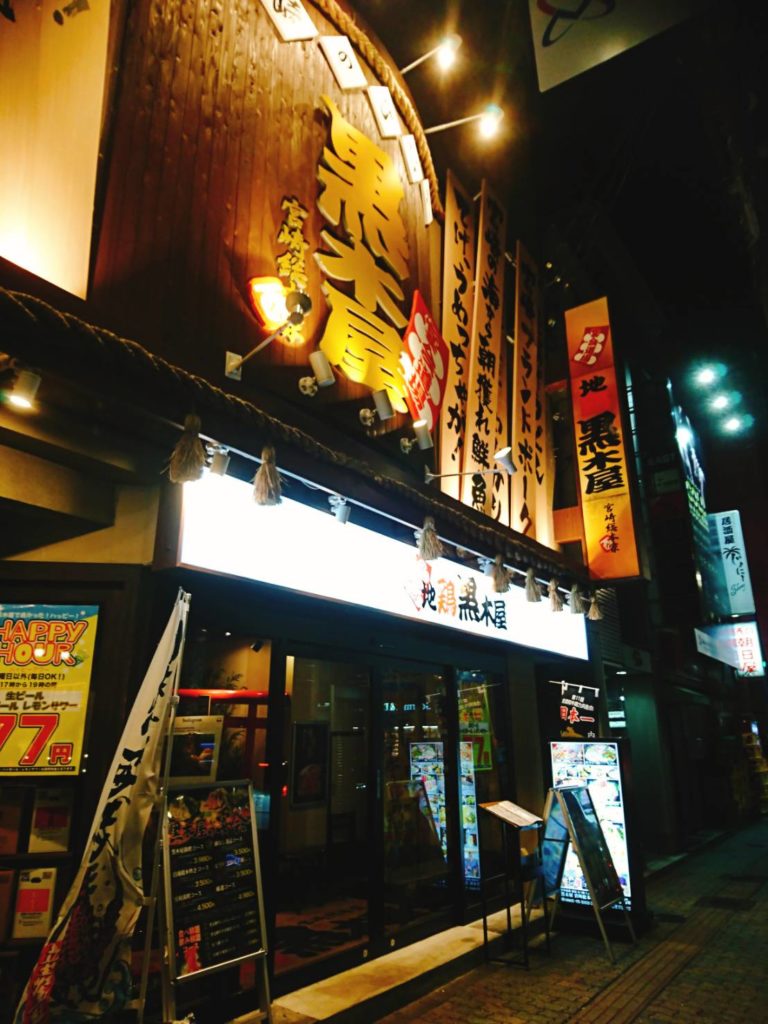 I will tell you what you have to know about Izakaya.
How is the food you are going to eat?
My favorite dishes and some tips about how to take care of your budget and just enjoy the moment  without any stress
Firstly what is an Izakaya? (居酒屋)
An Izakaya is a Japanese-style pub. The first Izakaya evolved from sake bars during the Edo period as it became increasingly common to offer small bites of food to customers along with their drinks.  They're a popular choice for getting food and drinks in the evening "after work", whether for groups of coworkers, friends, students, or even couples on a date.
When you arrived you will be asked how many people you are. Just answer it and make a sign with your hand  2,3,4 …  The server will go ahead, check for places then you will be seated at either a table or a low table with a recessed area beneath it called a "horigotatsu".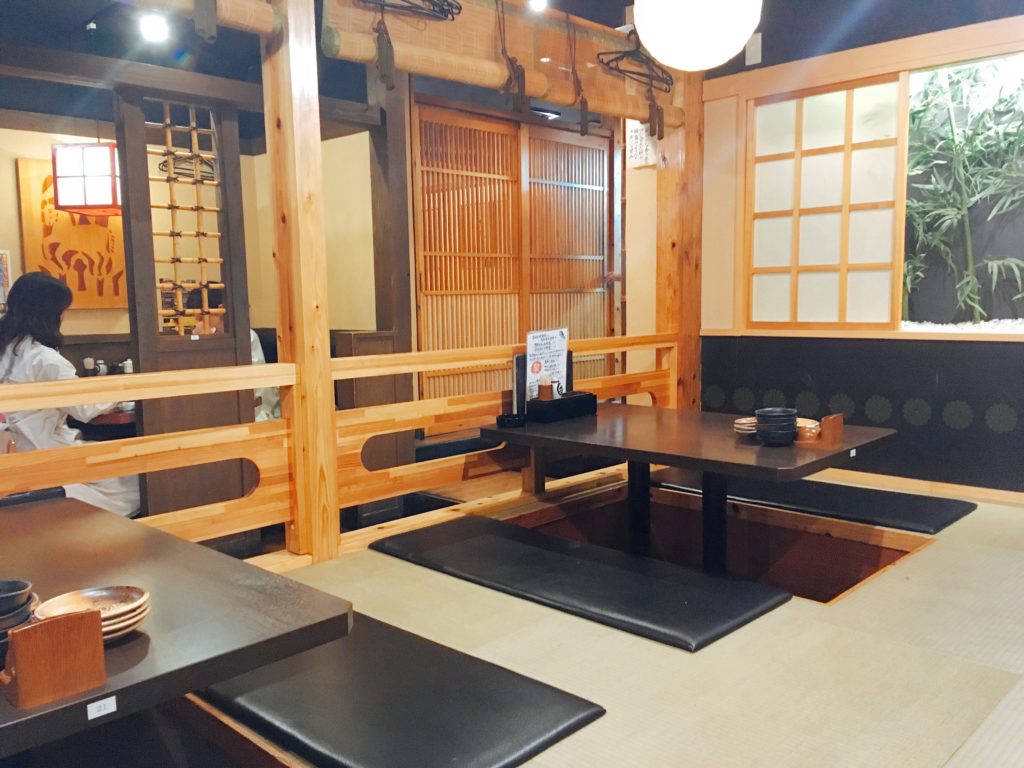 You will be given an oshibori (wet towel) upon sitting down, which you should use to clean your hands (just your hands) A nice oshibori will be refreshingly cool in the summer and satisfyingly warm in the winter.
It's common to put in a preliminary drink order, and at this time, I would like to share with you my tips. If you are like me, a compulsive eater gourmet,  you should ask for a "nomihoudai" and "tabehoudai" menu. It's very simple, it is everything you can drink and everything you can eat during 2hours! The cost varies between 2500yen and 4500yen per person. (you will be given a pot of what you have decided to eat "Shabu Shabu", "Motsunabe", "Wagyu"…and of course, you will have access to a large choice of side dish as Karaage, Jidori no sumibiyaki, Ceasar salad, Gyoza, Agedori tofu, Edamame…) By the way, you will be able to master your budget and knew how many you will have to pay!
If you cannot handle eating too much, I recommend staying in a classical way. You can order "A la carte"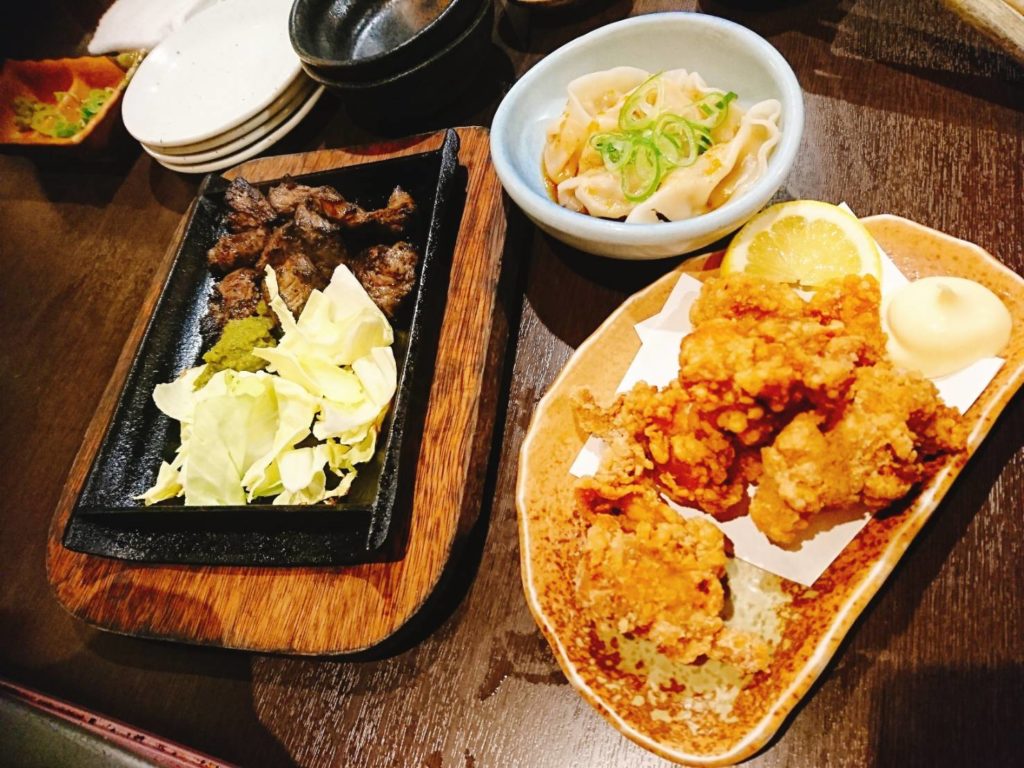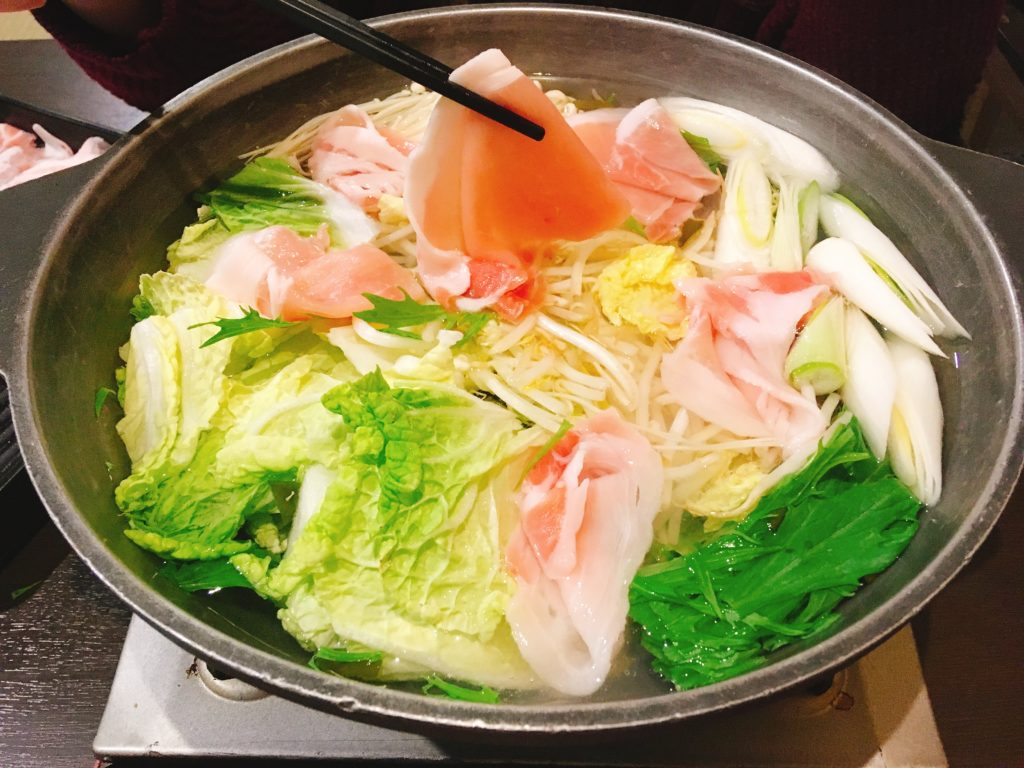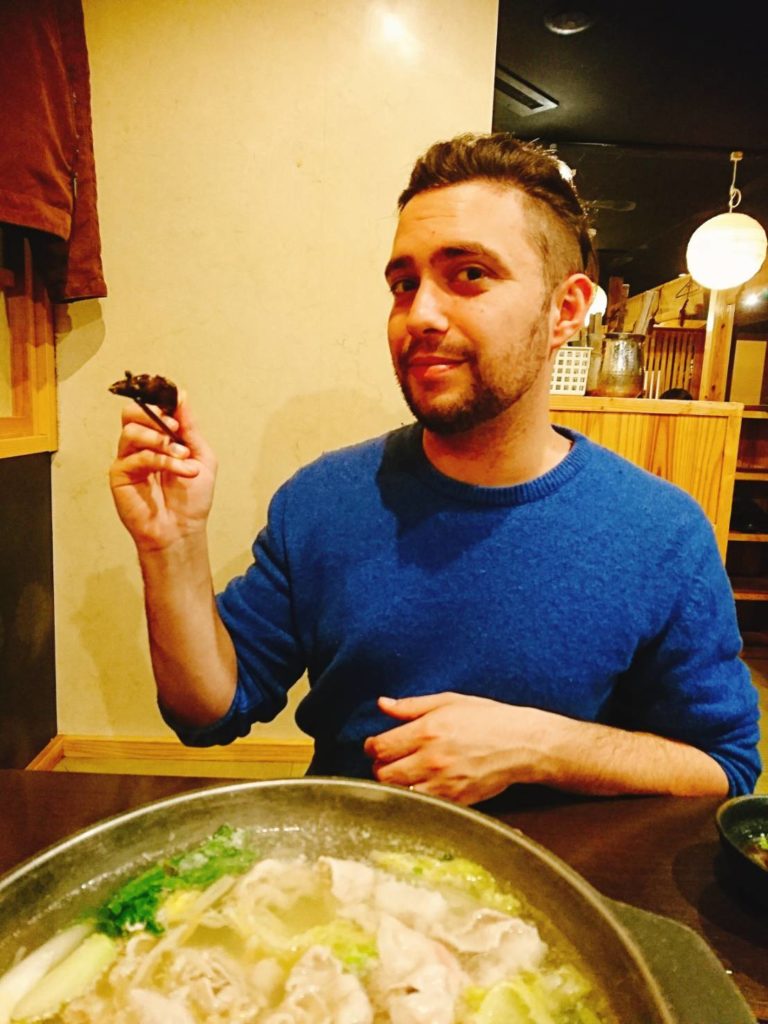 When you are ready to order, in almost every Izakaya you can call the server by saying "sumimasen"( it means excuse me) and don't worry because nobody has any compunctions about hollering "sumimasen!" over the din to secure the next round. The key to sounding friendly is to draw out the last eh sound. Once you get accustomed to it, it's lots of fun to call out, "Su-mi-ma-seeeen!"
However, if you are a bit shy you can use the small buzzer at the table. At Kurokiya, there is one, so you can use it as often you wish!
Concerning at the delicious Miyazaki's food, there are too many of it to make a proper presentation of each inside my article, but may I suggest you two specialties that you should try!
Today I would like to catch your attention on:
Jidori no Sumibiyaki and Shouchu
Jidori no Sumibiyaki : Chicken meat is cut into morsels, sprinkled with salt and pepper, then grilled at high heat over charcoal until the meat is charred black. And you can believe me that the taste of the charcoal on the meat combined to the taste of the Yuzugoshou is absolutely wonderful! In my opinion, this dish may come to us from heaven!
(Yuzugoshou is the green paste you can see on the picture below. It's a mix between salt/pepper and yuzu with spices.)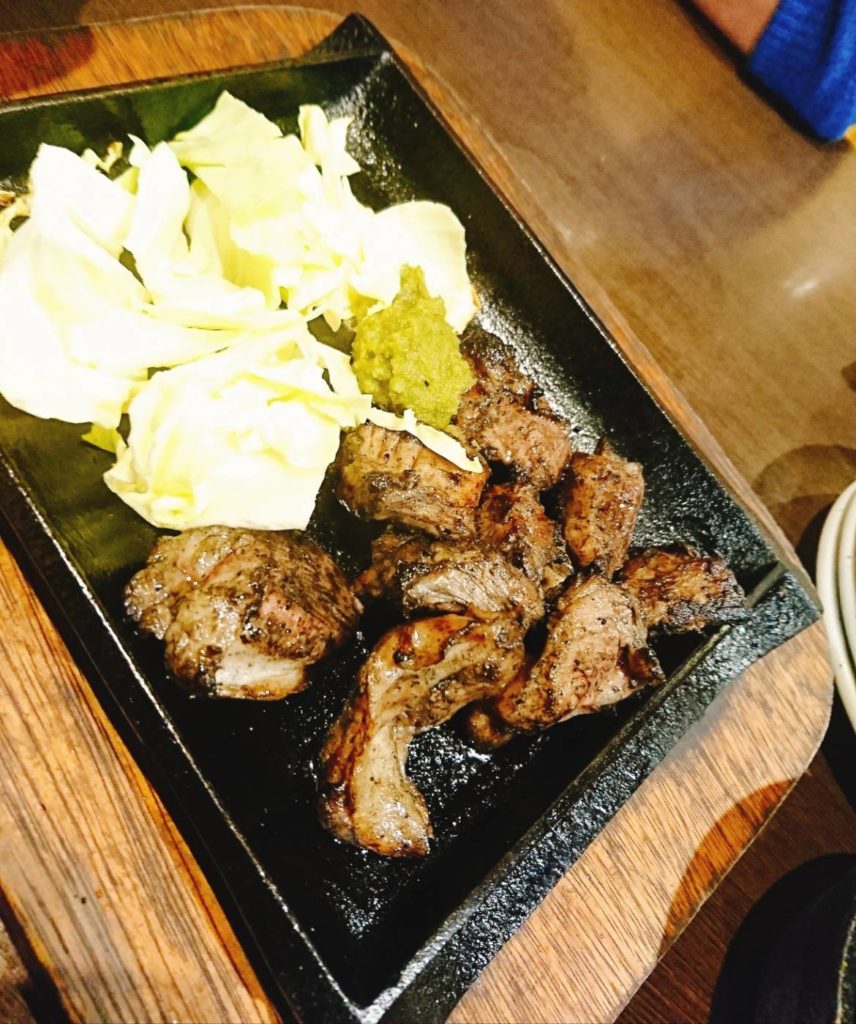 The Shouchu: Shochu is a Japanese traditional hard liquor, distilled spirits made from grains and vegetables. The most common base ingredients are sweet potato, barley, rice, buckwheat and sugar cane.  Because each of these base ingredients brings its own unique flavor to the final product, Honkaku Shochu comes in a wide variety of flavors and overtones. This variety in flavor is behind much of the popularity of Honkaku Shochu in Japan. Because of Shochu's higher alcohol content, it can be served straight, on the rocks, mixed with soda or water of different temperatures and also used as a cocktail base.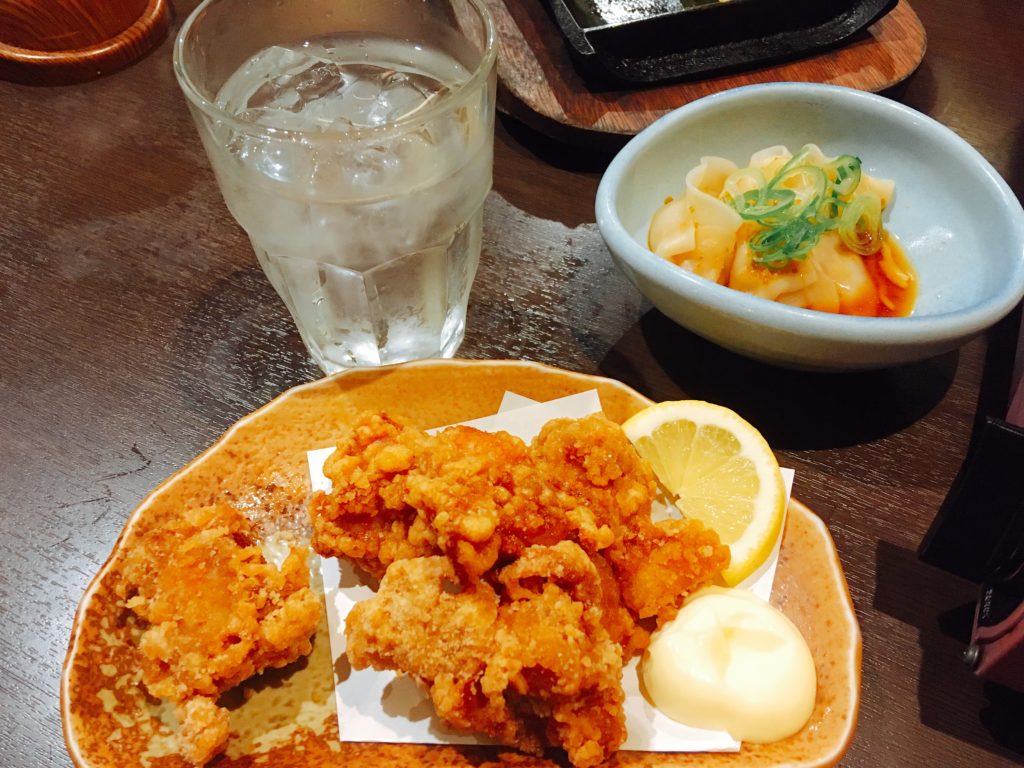 Of course, you will have the opportunity to taste the whole menu to eat what you prefer, or to challenge yourself with a new flavor!  Which include items like edamame, Japanese tsukemono pickles, chilled sliced tomato, hiyayakko (chilled tofu), tamagoyaki (Japanese rolled omelet). You will typically also find salads on the menu such as potato salad, wakame seaweed salad, and even Caesar salad, which is highly popular in Japan, Deep-fried foods, known as "agemono", go great with alcohol and are usually an izakaya staple. Look for items like "karaage" (fried chicken), "nankotsu" (fried chicken cartilage), agedashi tofu (deep-fried tofu), gyoza dumplings, french fries.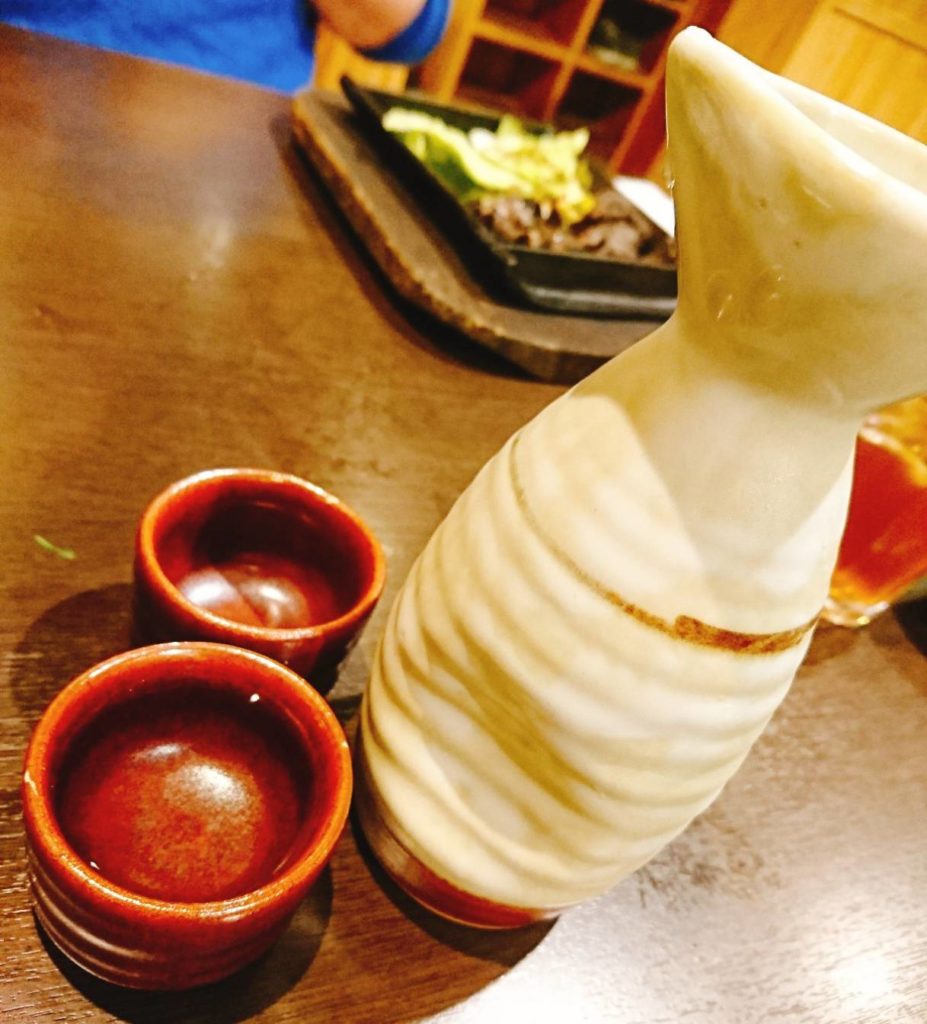 Well it's dramatic but, every good moment has an end isn't it?  So it is the time to get the bill.
Simply stand up slowly and head toward the door, where the bill will be waiting for you.
Between the shared dishes and the need to collaborate on your next order, izakaya are great for encouraging people to interact, which may be the key to their overwhelming popularity for groups of friends heading out in Japan!
I definitely love Kurokiya Izakaya, a place where you can easily find good foods good drinks for a really reasonable price in a great ambiance.  What else?
 More Informations:
Phone number:  0985-25-5353