In this article, we have the pleasure to introduce you to two marvellous places in Miyazaki that are still pretty undiscovered, despite being listed amongst the most beautiful places in Japan. Miyazaki is a paradise for nature lovers all year around, but if you are visiting Miyazaki in spring, you will have the opportunity to tick two of Japan's most beautiful places off your list in one day – Sekino-o Falls and Mochio Park. While Sekino-o Falls are listed amongst Japan's Top 100 Waterfalls together with big names like the Kegon Falls, the Manai Falls in Takachiho or the Waterfall of Mino, the walk through the 2.6 km long sakura-tunnels made Mochio Park known as one of the Top 100 Cherry Blossom-Viewing Spots in Japan. The best part of this trip : You can all do it in one day by public transport!
Our recommendation is to get a 1 day "VISIT MIYAZAKI BUS PASS" which allows to ride an unlimited amount of public buses inside of Miyazaki Prefecture for one day (with a few exceptions written on the backside as well as on the website of the bus pass). It takes about 1h 40 min to get from Miyazaki station to Miyakonojou station. From Miyakonojou station you can take the Takazaki Kankou Bus (not included in the VISIT MIYAZAKI BUS PASS) leaving for Kirishima Shrine. It is well worth checking your connections before you start your one-day-adventure as the bus will drive only about once every two hours. The bus is rather small, so you can just tell the driver which stop you want to get off at when you get in.
Start: Sekino-o Falls – A Well Kept Treasure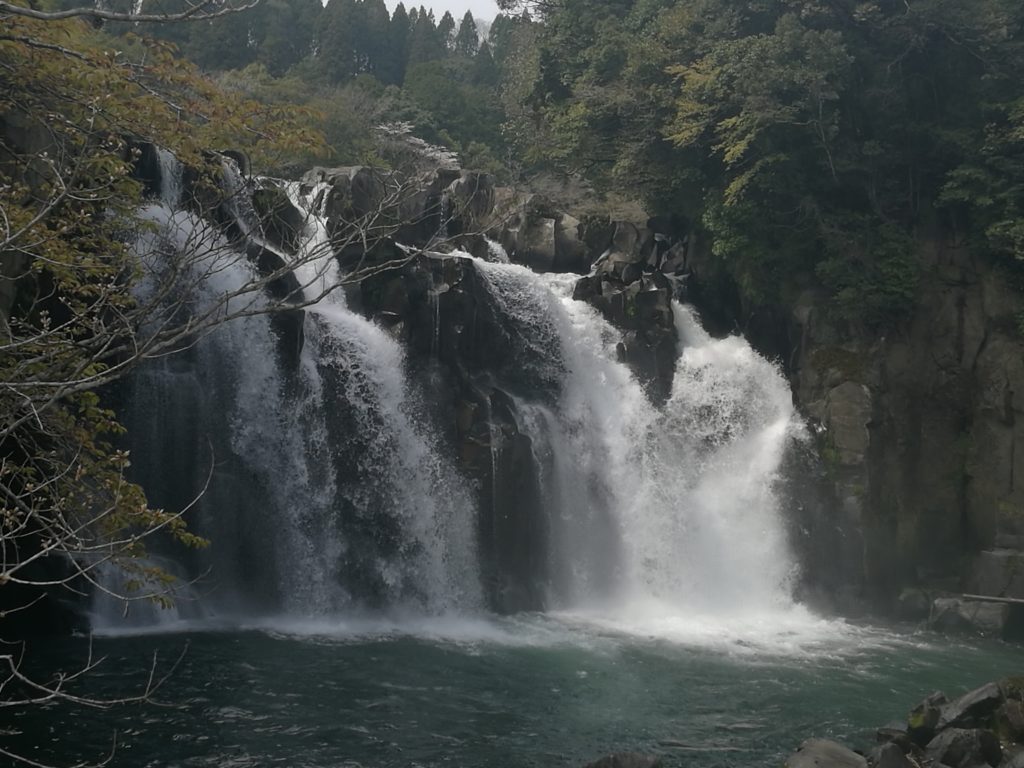 Engulfed by rich forests, the emerald green Sekino-o Falls will be likely to take your breath away. I recommend to start here as they are the farthest away. Get off the bus at Sekino-o Iriguchi (関の尾入り口). You will see a little parking lot with a shop, selling local goods and food, with bathroom facilities close by. If you have any questions regarding the time table of the bus etc., the staff there is very friendly and they will try their best to help you. During the morning hours you will mostly have the whole waterfall to yourself and it's great fun to stray off the beaten path and jump between the rock formations in the riverbed, dip your feet into one of the famous potholes or just sit down and enjoy the nature around you for a while. I could imagine staying there for a whole day, bringing some picnic and friends with me; but if you want to enjoy the sakura festival and spend some more time at Mochio Park I' recommend staying there for about two to four hours. Hop on the return bus (there is no bus stop at Sekinoo Fall, you just have to wait on the other side of the street and wave your hand if you want the driver to stop) and get off at Mochio-Park station.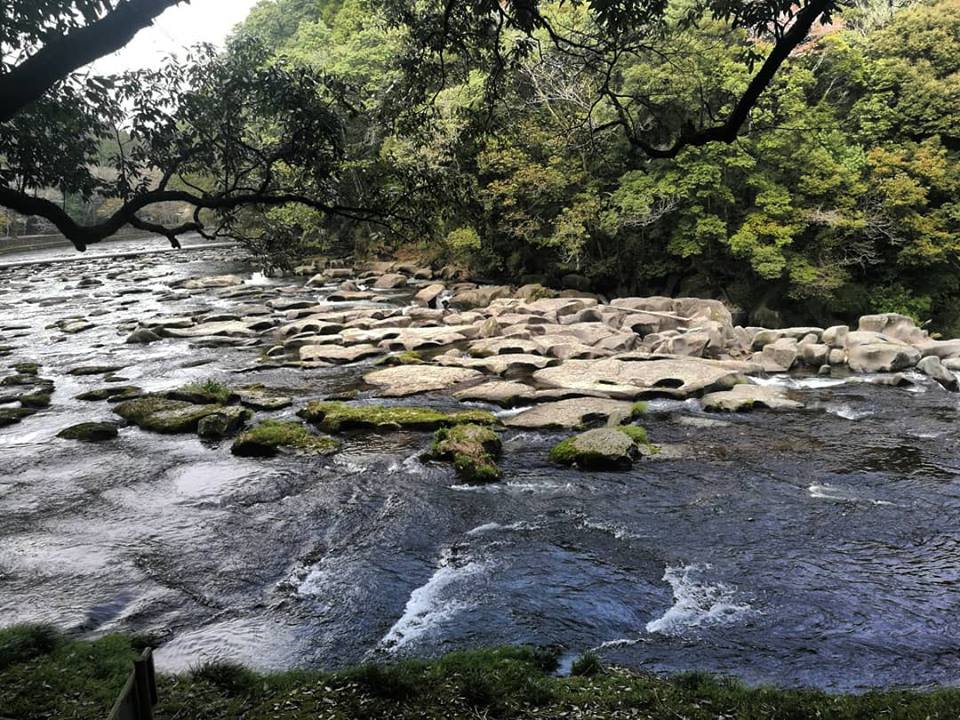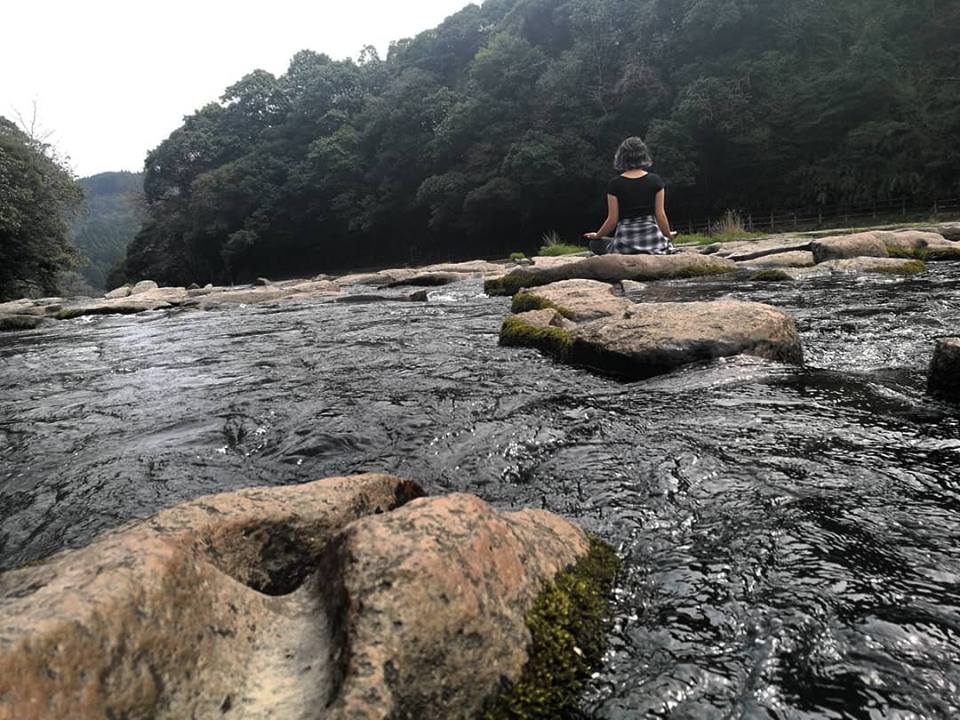 The place is perfect for outdoor-yoga, meditation, having fun outside, connecting with nature or to just get away from all the hustle and bustle and back to yourself. Be warned: Sekino-o Falls is a place you will want to come back to over and over again!

Map-Code (GPS):216 628 894*74
It takes about 1h 15 min by car from Kagoshima-Chuo Station via the Kyushu highway and Route 2 and about 57 min from Miyazaki Station via Miyazaki Highway.
Next Stop: Sakura Tunnels at Mochio Park!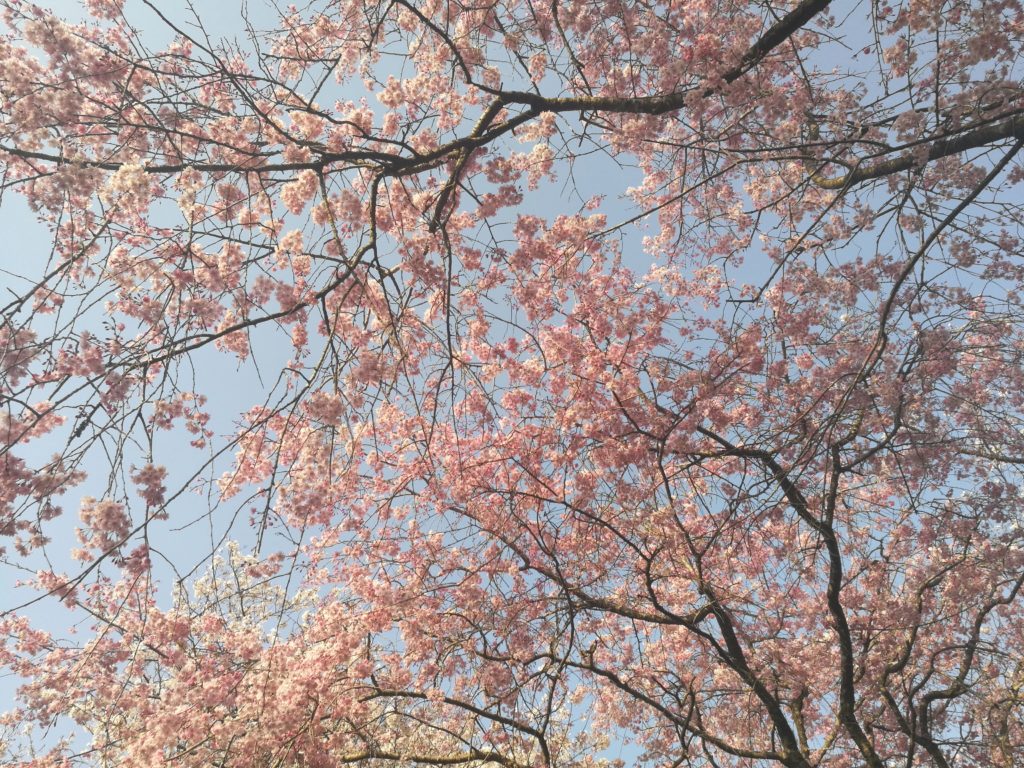 Once you get off the bus at Yokoichi Station(横市), you immediately will see an arcade of sakura trees. The characteristic sakura tunnels is what got Mochio Park into the Top 100 Cherry Blossom-Viewing Spots and once you walk beneath the canopy of white and pink flowers and shades, you can see why. If you visit Mochio Park on a windy day it will look like pink snow is falling down, giving the whole experience an extra romantic touch. Another point that makes Mochio Park stand out is that although the sakura-tunnels are known nation-wide, the crowd is comparatively small. While most famous sakura festivals will be packed with people and it sometimes can be challenging to find a free spot, at Mochio Park you will have a free choice of your favourite spot most of the time and you will find it easy to get in contact with other families and locals visiting if you feel like it. It takes a short 15 min. hike up the hills to visit Mochio shrine, enjoy the view over Miyakonojou and marvel at the sakura tunnels from above. Experiencing the sakura trees by night is a wonderful experience, the trees are lit up after sunset until 21:00 p.m. However, the last bus for Miyakonojou station leaves quite early, so if you plan to stay for the night view, you might need to call a taxi or ask someone whether they would take you back to the city (which usually works quite well as Miyazaki people are super warm and friendly).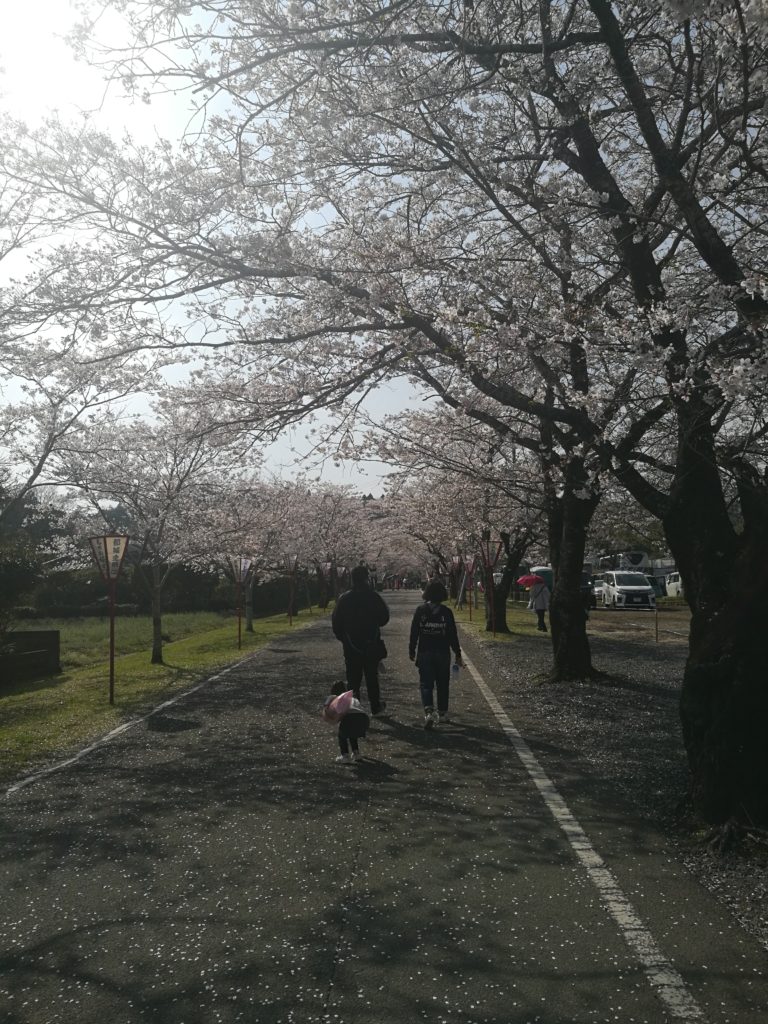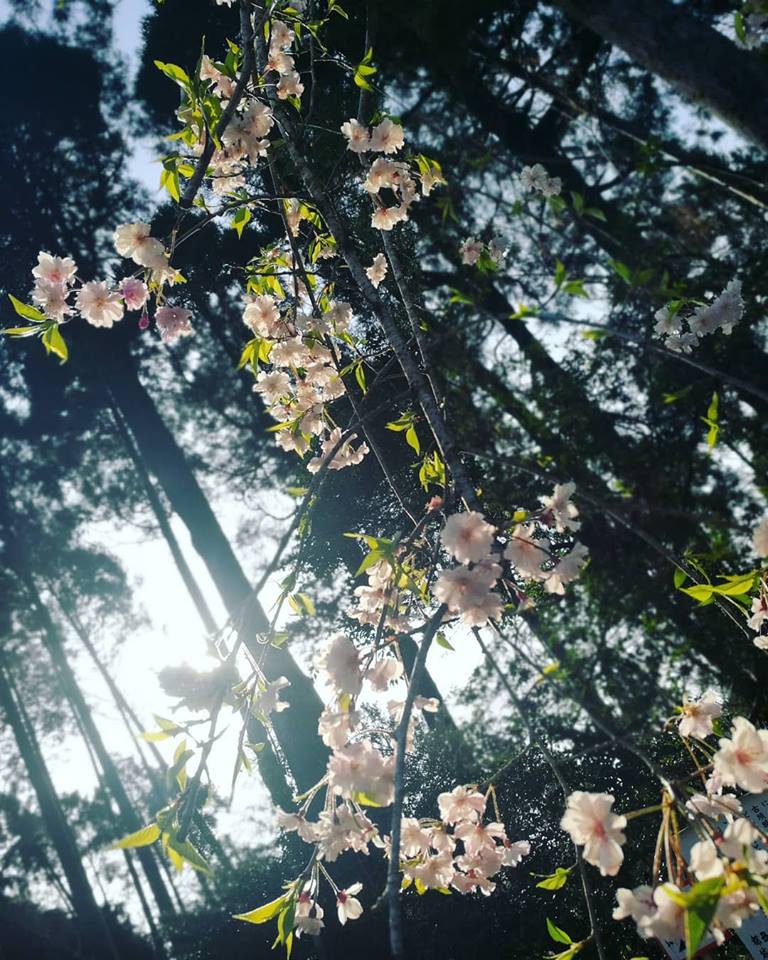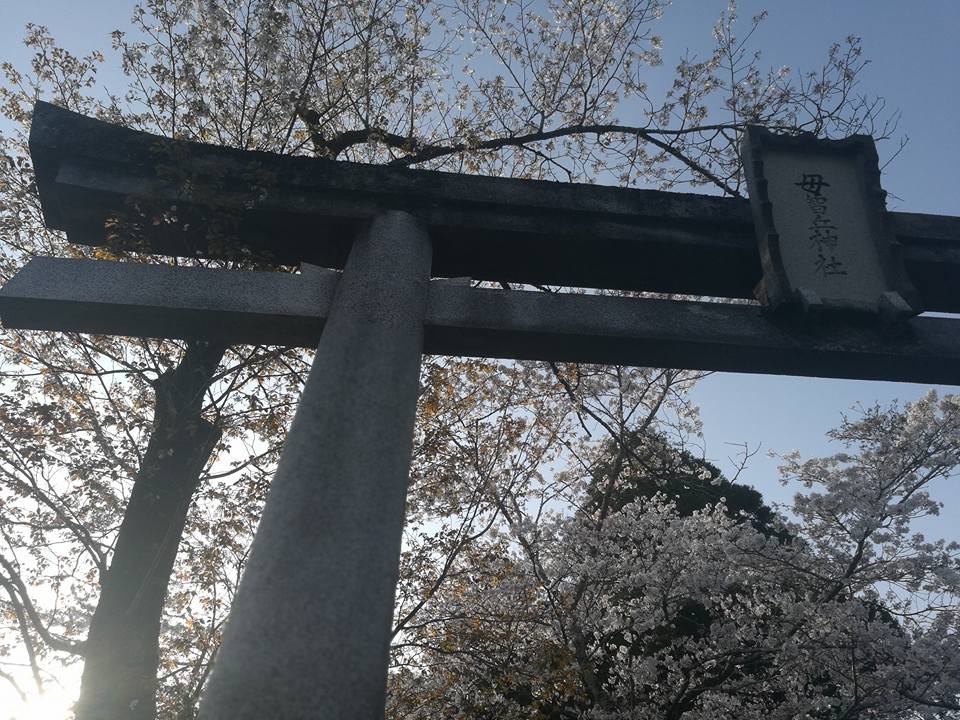 Map-Code(GPS):117 571 565*46
It takes about 7 min by car from Sekinoo Falls to Mochio Park via Route 107
For anybody who visits Miyazaki during springtime and would like to spend a day surrounded by beauty and nature, this trip is highly recommended!