Southern
November 27, 2017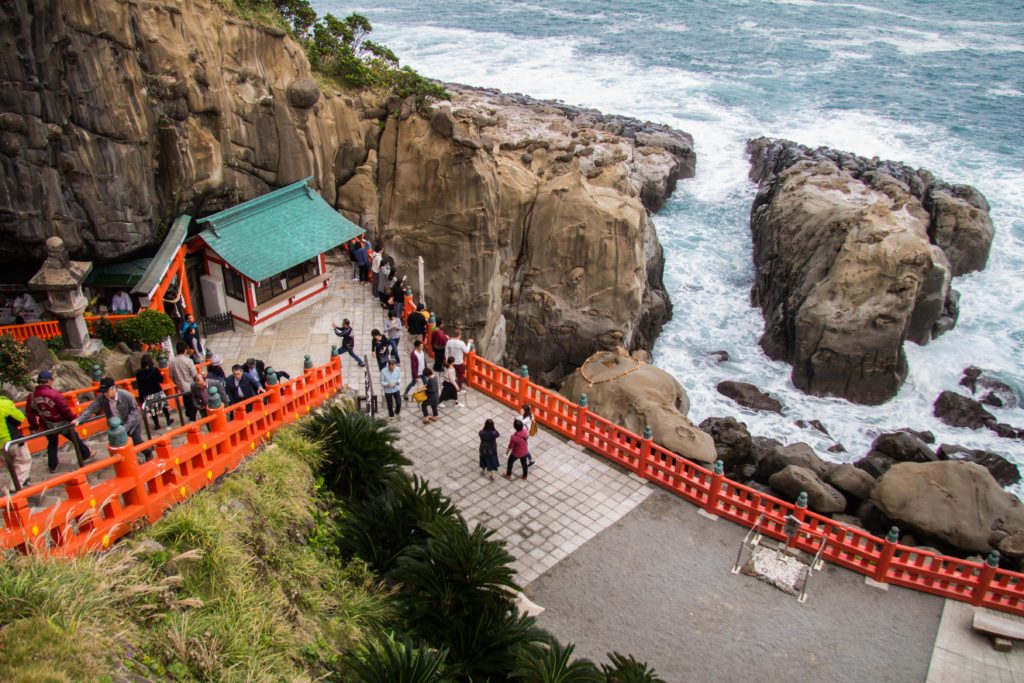 Set inside a cave on a cliff side of the Udozakiheadland, Udo-jingū is one of the more unique shrines Miyazaki has to offer. The gorgeous, vermilion-lacquered red temple is dedicated to the god Ugayafukiaezu, who grew up to father Japan's first ruler, Emperor Jimmu.
During the Age of the Gods, the daughter of the Japanese sea king Ryujin, Toyotama, lived with her father in the underwater kingdom of Ryugu-jo. One day, the dragon goddess met a young hunter named Hoori who had come to the bottom of the ocean looking for his brother's missing fishing hook. The two fell in love and married.
After a few years living together in the palace, Hoori began to long for a life above the sea. He convinced his wife to come with him and, pregnant with their first child, she agreed. They set up camp inside a cave along the shore and soon after Toyotama went into labor.
Not wanting Hoori to see her transform into her alternative form, Toyotama begged him to wait outside. Curiosity got the better of him, though, and he peered in to find a giant black dragon holding his baby. Ashamed, Toyotama fled back into the sea, leaving her breasts behind to feed the newborn.
This mythical birthplace is where Udo-jingū is located today, about 40 km (25 mi) south of Miyazaki City on the Nichinan Coast. Rock formations inside the cave are thought to resemble Toyotama's breasts; drinking the water that drips from these ochichiiwa is considered beneficial "milk" for women who are pregnant, nursing or trying to conceive. A special milk candy is sold at the shrine too, which is said to ensure expectant mothers have a safe and easy delivery.
A set of stone steps leads down into the shrine, another unique feature that sets Udo-jingū apart from other shrines in Japan; those typically have pathways that ascend to the entrance. It's a popular spot for watching the first sunrise of the year, and listening to the waves crashing on the rocks below.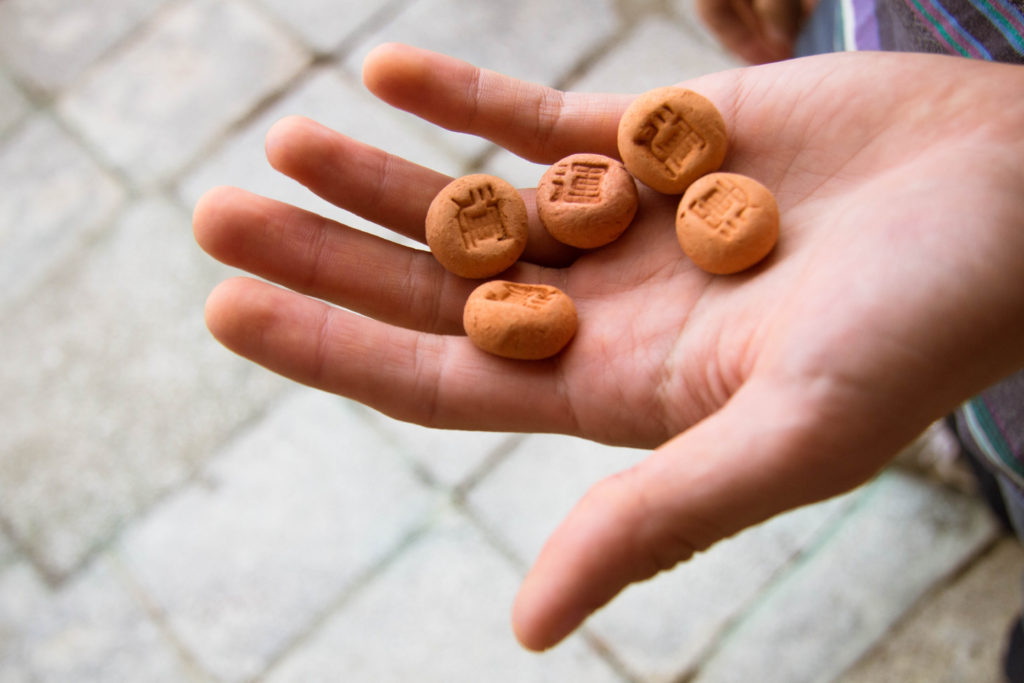 One of them is shaped like a turtle and has a concave hollow outlined with rope. For just 100円, you can purchase a handful of small, clay balls, or undama, from the shrine, and try your hand at tossing them into the rope circle; if you manage to land one inside, it's said your wish will come true. Women should throw with their right hand, and men with their left.
Visitors in March can enjoy the annual shanshan umadouchu competition, which is held to commemorate the Taisho-era tradition of newlyweds visiting the shrine at the end of their wedding ceremony. After worship, relatives would greet the couple with a shanshan uma, or horse adorned with bells. The bride would then mount the horse and the groom would lead her home.